I lived till(:

Friday, January 14, 2005
i just realised oliver has left sunny singapore with his family. i wanted to say goodbye, except i didnt know he was leaving. haha.:0)
well thank god i'm not close to him or whatever cos depression to me, is not an option/ sacrifice which i think i should make just to be ones friend.
i pity kimberley though...
well i'm rather excited now cos i received good news!:)
11:41 PM


VEEKTOUR PASSED ME HIS BIKE.
THANK YOU VEEKTOUR..:)
10:50 PM


went for school today was late cos the taxi driver came late and because of me elizabeth was affected too.
i'm so sorry birdy!! :(
and cos the teachers were keeping an eye on her since day2 till now, i figured she got into more trouble than me. i'm so so so so sorry!):
well school was a bore, sheevonne cried for some apparent reason, she looked really angry. poor little girl (literally).
after school, charis and i stayed back in class and did finish our english homework. we were singing damn loudly and cos the classroom wall isn't technically a classroom wall. our voice was echoed and made it sound louder than in the class room.
at 330 then we left the classroom for LD meeting.
Ld was promoting some OM thing. every school in singapore gets to participate, only the top 5 schools will get to go to the U.S and meet other countries schools, really cool. but it sounded really stressful but yet i knew that it would improve my drama skills, so i signed up for it. there was an audition as there was limited ammount of vacancies (spelling?).
we had to be spontaneous, so mrs tan gave us a topic on the spot and we're suppose to act something out.
thank god we went in groups or i might just freak out, well she gave us a piece of paper and we're suppose to act something out of it.
so louisa, shalinda and i were in the same group, louisa started first, she said paper ball and she crushed the paper, shalinda told this whole long story about toilet paper, and i said some what like toilet paper except i stuffed it up my ass. louisa stumbled abit, shalinda was rather long winded but not bad. i think louisa has potential, except she can't perform well, ON THE SPOT kinda thing.
well it's a stressful event if i do get in which i hope. will be busy till... april if i DO get in.
so after school went home and talked to kerry on the phone, she didnt go to school today.
I MISS MY TWINNIE!!!!
I MISS DA HIPPO!!!!!:((
10:08 PM


mah twinnie that i miss so much.. now where's my hippo also? just got off the phone with kerry the banana head=D

7:31 PM

I lived till(:

Thursday, January 13, 2005
this is another ahlian pose. the scissors paper stone pose. except this is the stone pose. and except we look like we're gonna burst out laughing but still trying to convince everyone that we wanna beat them up.

10:49 AM


still trying to act cute. dont ask me why are we doing this. and we've got tons more if you wanna see. except i'm too lazy to post all=D

10:45 AM


demelza. well at least she only ate one slice of ice cream cake. birdy ate 3 or 2.hur.:D

10:44 AM


birdy and neri. the couple which consists of two 'lao-gongs'

10:42 AM


birddeh my legs and kris

10:41 AM


zoe ner me and becs.my hair looks messed.-.-

10:40 AM


still trying to act ahlian. you know the , 1, 2 and 5 poses.

10:39 AM


zoe and becs

10:39 AM


zoe and sarah:D

10:38 AM


me kim and ner

10:37 AM


mi ner and bird. i realised that all e PL girls had short hair except for rach and demelza but the scgs and mg girls all had long hair except for maybe 3 girls.

10:36 AM


told you they couldn't stop.

10:34 AM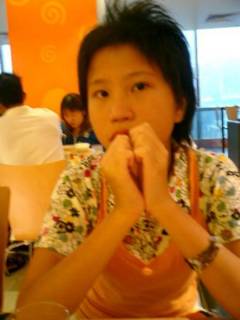 zoe john and i went to thai express before kim's party. so this is taken in thai express. where john and zoe were irritating and kept taking pictures of mi.-.-

10:33 AM


trying to act ahlian-act-cute. i think zoe mastered it whereas i looked like im sucking on a lemon.

10:31 AM


NERI.HAHAHAHAHHAHAHAHA. at macs while waiting for kris. this was taken before kims party

10:30 AM


blur sotong kristle and kim at the back

10:28 AM


me and sandy. okay the bitch there is super fluffy...

10:27 AM


kimberdee and zoe!

10:24 AM


zoe and cherlene

10:23 AM


bird me and cherlene. we were trying to act dumb

10:20 AM


becs and zoe. this is during kim's party. zoe took all these pictures.

10:19 AM

I lived till(:

Wednesday, January 12, 2005
i went to school and i did stuff which i can not remember and i went home and i crammped myself with tons of homework and guess what, after cramping so much hw, i am not going to school tml.-.-
10:24 PM

I lived till(:

Tuesday, January 11, 2005
went to school, and did stuff in school. very boring.
so tomorrow need to come home immediately after school and do DNT project.
i must remember to bring my bloody history book and geog.
hur.
so basically school sucks and neri was so sweet, she dedicated a composition to me.=D
9:33 PM

I lived till(:

Sunday, January 09, 2005
some one has the pacific ring of fire on her face. ruiyi is super funny man.:D
anyways went to church with kris and family excluding sister.
after that went to eat and walk around then went home.
i lead a boring life and i wish some one could help me spice it up somehow, or else i might just crack up once i hit 14, on my birthday la.
i can't lead a life like a nerd, going home, doing nothing unless i am tired then i sleep. but gee man, that's fricking boring. i dont know how they manage, but i congratulate them.
and i find xiaxue too commentive. commenting on christians and stuff. gee.
dont see why she is considered as the most popular blogger? esp when her english is not the fantastic either.
9:26 PM